Warning: own-trumpet blowing below.
I had a look at my blog's statistics this morning and discovered that I'm globally popular! Here are the origins of my last 100 page-loads: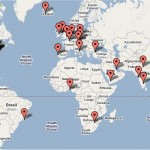 (click on the image for a better view)
Yes, I'm sure that any blog worth it's salt gets visitors from all over the place, but it's still pretty cool.