Last night Dani and I went to the Royal Opera thanks to the glories of Student Standby tickets:  £10 each!
It's luck of the draw for where you end up sitting.  Last night we were in the nose-bleeds, but at the ROH, even there you get a perfect view and no acoustic trade-off that my untrained ears can notice.  We've previously managed to get seats that would ordinarily cost hundreds of pounds.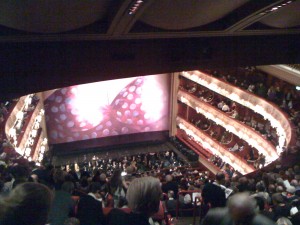 We saw two one-act comedic operettas:  Ravel's L'Heure espagnole (the poor-quality photo above is from that – Look!  Giant breasts at the opera!) and Puccini's Gianni Schicchi.  Freakin' hilarious.